2007 Pictures
Thank You for Visiting!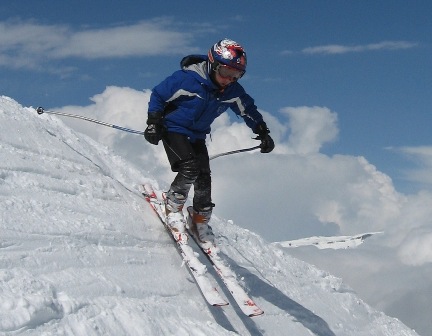 Viva la France!

Please click on thumbnail for a larger picture. Pictures are essentially chronological.

(after viewing the larger picture, click the 'Back' button on your browser to return to these photo galleries)



Winter
Hovey Memorial race, Whiteface Mtn.

2nd place, Hovey Memorial. Size matters not.

Ice skating on the 1932 & 1980 Olympic oval, Lake Placid.


Paris!
That soccer ball travelled everywhere.

10-year old at the Moulin Rouge. A year younger than when dad got to go!

ZZ dribbled all over Paris. What a surprise.

The Siene, Pont Neuf in the background. Just a little nicer than the Hudson River.


Chamonix, France & Courmayeur, Italy

St.Gervais train station; onroute to Chamonix.

Brevent-Flegere ski area. From the lift in town.

Grand Montets midstation area.

Grand Montets - one of many 'trails'.

Grand Montets - over 3000 meters up.

Argentiere glacier up close from Grand Montets.

Still at Grand Montets; some serious steeps.

Grand Montets - 3275 meters up.

We are never taking another ski vacation in North America.

Grand Montets - pictures cannot do the place justice.

Mont Blanc in the background. This platform is 3842 meters high.

Walking down the Vallee Blanche snow ridge. You fall you die!

Smiles after hiking down the arete.

On top of the ski world! Ready to ski the Greatest Ski Run in the World - the Vallee Blanche.

The Vallee Blanche. 20 kms of ski heaven.

One of the Vallee Blance 'no fall' zones.

Dad has wanted to ski this since he was 11-years old.

An alley carved out of the ice by a summer river on the Mer de Glace.

One of many ice walls on the Mer de Glace.

Seracs and crevasses. Ski with a professional guide!

World-class meal after the greatest ski run. Cassolette Escargots at Hotel du Montenvers. Delicieux!

Courmayeur, Italy. Short bus ride from Chamonix.

We can't read Italian, so we skied right past this. :-)

It's not just the French that know great food. Mid-mountain family owned restaurant.

Another grand day at Courmayeur.

Great meals, mid-mountain Courmayeur.

This family-owned mid-mountain restaurant deserves special mention - La Chaumiere. Deer Valley can only dream of lunches this good.

Bumps and tree-skiing at it's best.

Beautiful town of Courmayeur. Right on the slopes!

Le Tour - just another Chamonix ski area - about the size of Vail!

That's a hamburger - the way it's served on the french/swiss border at Le Tour.

Got snow? Ski the roof of a house, end of March in the worst snow year Chamonix has ever had.

Leave the race skis at home.
Summer
May 1 race, Killington, Vermont.
Promo newspaper ad, The Albany Academies.
Buck Mountain, view of Lake George.
Our rhododendrums blossom around ZZ's birthday.
Outdoor art exhibit, old Montreal.
Dribbling a soccer ball in old Montreal. What a surprise.
Fieldtrip looking for a soccer player.
Camp Chinga counselour Mike P. (Academy alum)
Williams College soccer camp
Williams College soccer camp (highly recommended)
ZZ's donation with friends contributions to Albany Med, Childrens Hospital. Made the newspapers.
Juggling / tailgate prior to the Revolution vs Galaxy match.
Player escort, LA Galaxy vs Revolution.


Fall / Winter
Albany Academy 6th grade.

White Mountains, NH. Near Zealand hut.

Waterways near Zealand hut.

Whirlpool (cold!) near Zealand hut.

Hampton beach, New Hampshire. Playing soccer. What a surprise.

Beach soccer with some college players.

Sax practice next to the apple cider mill.

Academies soccer. Won every game!

Smiles? I guess practice wasn't tough enough.

Academies soccer year-end party.

City Hall skating, Toronto.

Practice, outdoors at 16F (-9 celsius).

Repetition, repetition, repetition.

Outdoors. Because soccer is a winter sport.

Green Mountain Inn icicles.

Into the Stowe glades! But this year, we didn't have to ski a closed trail to get out-of-bounds. ;-)

Stowe, Vermont. Eastern tree skiing at its best.
Pictures are sized for your browser and not suitable for prints.

Comments/gossip/blather to: webmaster@moonbrookhill.com
Site Last Updated: Saturday December 24, 2011